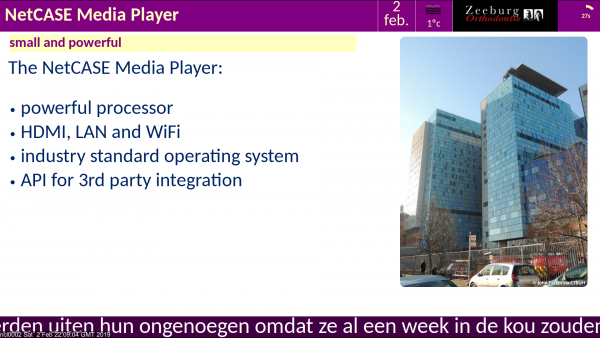 Media Player highlights
industry standaard HDMI output, supports up to 1920×1080 resolution
enter content with our user friendly CMS
supports up to 1080p Full HD video, HTML5, CSS3 and Javascript
templates include weather, news, etc.
ticker newsfeed via RSS
Offer flexible task scheduling based on one-off or daily, weekly, monthly timescales
Flexible API for integration with third party applications, like queueing systems
Bespoke templates
Instant Remote Diagnostics and Preliminary Maintenance
Administrators can perform troubleshooting by remote login. In addition the Media Player continuously uploads log records and operational parameters, such as system resource usage, CPU temperature and network topology.
To obtain optimal performance and functionality Players can also be remotely upgraded whenever new software updates are available. If an abnormal situation occurs the Media Player can be remotely rebooted.
Administrators can also restore configurations or recover a system immediately when necessary.